4 Questions You Need to Ask When Installing Railings Around Your Decks and Patios
With sunny weather fast approaching, it's about time to get your deck into tip-top shape! Once you have the foundation of your deck or patio laid out, its time to consider what kind of railings you want to install. Railings serve an important function for both safety and aesthetic reasons when it comes to your deck and patio, so they are not to be forgotten. When it comes to choosing the right railing for your home, consider your personal preferences, the size and shape of your patio, and the construction of your deck. Here are four questions to help you get started:
What are you going to use your deck or patio for?
Will you be hosting countless cocktail parties, or will your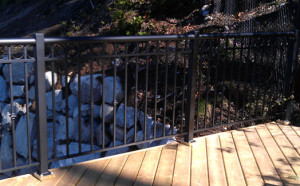 patio be more for your own private seclusion? Are you interested in seeing your surroundings, or do you wish to block out the bustling noise of the city streets below? Consider lower railings to create more open space, and higher railings for a more secluded feeling.
Do you want your patio to feel spacious or snug?
Certain colours can provide the illusion of a larger or smaller space, depending on the colour of the rest of your deck or house.
Does your installation plan comply with city bylaws?
Be sure to check with your local building codes to ensure that your installation plans for your new deck comply, and obtain your permit as soon as possible. This will help you determine types of railings that are acceptable and types that are not, mostly pertaining to height.
How long do you want your railings to last?
We always recommend buying metal railings over wood railings. Considering long-term investment, the cheapest railing is not always the best. It may be worthwhile comparing your options for aesthetic appeal, safety, and durability, in addition to cost.
Buying Fence & Railing Products in Surrey BC
Asking yourself these four questions is a great place to start. Next, we recommend you seek an expert opinion. Our professional staff at QS Fencing are pleased to offer you quality fence and railing products and can also advise you on the correct gate to match the railing which will provide a secure passageway to conveniently pass through.