4 Tips for Getting Rid of an Old Fence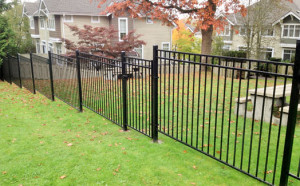 When the weather is looking this good, we all want to be outside! Hanging out in the backyard, sipping on lemonade, the last thing that you need is the unsightly distraction of a grungy old fence. Not to mention the devaluation of your beautiful home with peeling paint and broken pickets.
Last year the Surrey fencing experts at QS Fencing published an article on "Highly Useful Tips for Getting Rid of an Old Fence". We decided to revisit this topic because we've noticed it may be time for some fence repairs and new fencing installations to go up around the neighbourhood.
It may be tempting to simply grab a hammer and take out the old fence once and for all, but consider these four tips before getting rid of an old fence without creating further problems for yourself:
Make sure you own it
Before making any changes to what you think is your property, pay due diligence and make sure you actually own it as it may belong to your neighbour. Save the headache by avoiding the legal and reputation costs by finding out first.
Talk to your neighbours
The easiest way to find out is to talk to your neighbours. They may have a better knowledge about whose property is whose. In the very least, you will be able to come to an agreement about what needs to be done to keep up the value of both properties, which would include the maintenance of the fence between your properties. Surely, your neighbour should have no problem with getting rid of an ugly old fence in lieu of a new one.
Don't mess up the utility lines
Especially for older fences, it is likely that they are standing above some utility lines. It is advisable to seek clearance from your local utility companies before making any changes, like digging into the ground, as you may get fined for disrupting the phone lines of what may be half your neighbourhood!
Hire a professional
No matter how handy you may be you may still be underestimating how far into the ground your old fence posts are anchored. Concrete and gravel, for example, will likely require heavier duty equipment that you may not have at home. By hiring a professional, he or she will be able to properly assess the situation and bring in the tools necessary to safely handle the job.
Once your fence has been removed, consider a professional to review your options for a new fence installation, as well.
Contacting Your Local Fencing Company
QS Fencing Company in Surrey provides a range of fence services from fencing removals to fence repairs. We are located in Surrey, BC and service the entire Lower Mainland. Contact us for a free estimate today!