We Specialize in Steel Bollard Installations and Repairs for Greater Vancouver
At QS Fencing we install a lot of metal poles anchored in concrete for clients across Greater Vancouver. A specialized heavy duty application that's used to protect and prevent damage is commonly referred to as a "Protective Bollard" or "Safety Bollard."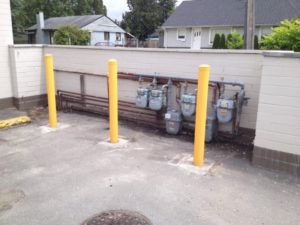 Protective Bollards
Protective Bollards are designed to protect utilities, electrical boxes, equipment, buildings, and people from vehicles and traffic. They are used in many common outdoor applications such as traffic control in parking lots, around gates, through roads and driveways, and  near buildings to protect structures, doorways, and equipment.
Indoor Saftey Bollards
Safety Bollards are also used in many indoor applications such as underground parking lots,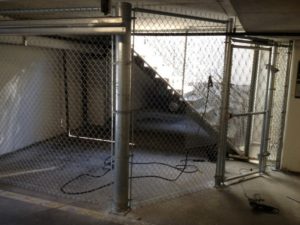 warehouses, and plants where  cars, forklifts, machinery, and other applications call for impact secure perimeters and safety protocols.
Made with structural grade steel and set in concrete, or anchored onto concrete. Specially designed protective bollards can offer a significant amount of physical protection from high-impact vehicle collisions.
While bollards excel in utilitarian appeal, we offer factory powder coated paint finishes to match your architectural design, aesthetic, or safety considerations.  In some cases, you may want a safety yellow and in other cases you might opt for red, or white, or grey.
For personalized aesthetic appeal and a custom look, we can also make decorative metal bollards. Such applications may sacrifice some protection or function for the form, so be sure to consult with our bollard experts when evaluating your options.
Repairs on bollards are common as they are typically installed in rather ideal locations for collisions, the upshot is that our bollard repair team can relatively quickly and affordably repair a damaged bollard on site — whereas the structure or equipment the bollard protected would likely require considerably more time and cost to repair or replace.
Common Applications of Steel Bollards
Leisure Parks

Fire Access Lanes

Building Setbacks

Traffic Medians

Site Perimeters

Intersections

Roadways

Trails/Trailheads

Sports Fields

Mall Doors and Hallways

Controlling Traffic Gates

Protecting Landscapes

Pathways

Site Utilities

Bus Stops

Bicycle Lanes

Store Fronts

Building Hardening

Vehicle Parking

Site Access Control

Site Surveillance

Vehicle Pick-Up

Toll Booths
Call QS Fencing for an Estimate or Consultation
Whether you need a new bollard installation or a repair of a damaged bollard – anywhere in the greater Vancouver Area – we have you covered.
From security and impact bollards to fire lane bollards to aesthetic bollards, give QS Fencing in Vancouver BC a call to get a free consultation and a free estimate.
For estimates and pricing, call us at (604) 345-5145 or fill out the form here!