Length & Gauge: Sizes of chain-link fencing explained
Fencing is not necessarily an area of expertise for everyone. That is why a professional fence company can help you determine your needs quickly and accurately, saving you priceless time and trouble.
Important Chain Link Fence Questions
An important question that many of our customers ask is: What size chain-link fence do I need for my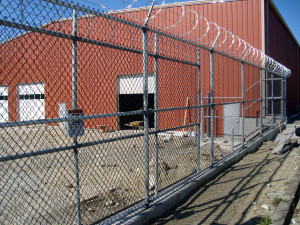 home? Or what size chain-link fence do I need for my commercial business?
Although there are a variety of sizes and options available, not all are suitable for your needs, and some may not even be legally allowed for the nature of your business. A professional fence installation company will be able to access your situation and tell you what's best or necessary for your specific fencing needs.
Two things to know about chain-link fencing are length and gauge:
Length
Length refers to the size of the diamond that is characteristic to chain-link fencing. The characteristic diamond is formed when the steel wires are bent and alternate into a zigzag pattern. The length of the fence will therefore be determined by the degree of bending each zig and zag form at. The standard mesh length is 2" and 80%-90% of all chain-link fences are made in this standard size.
Use Cases & City by-laws
Examples of when you may need to request a different mesh length size are for tennis courts, which use a mesh length of 1.5" or when city by-laws permit. In Vancouver, Surrey, Burnaby, New Westminster and any other jurisdiction under the Fraser Health Authority, chain-link fencing must be 1" in mesh length size to prevent climbing.
Gauge
Gauge refers to the diameter of wire and tells you how much steel is actually in the fabric of your chain-link fence. The smaller the number, the more steel, and therefore the stronger. The standard gauge of a residential chain-link fenceis 9. This is typical because it is lighter weight than smaller gauge numbers which would otherwise be ideal for higher security purposes.
Not everyone needs to be an expert in fence installation, but these key things can help you get started. Be sure to consult a fencing professional for more information and assessment.
Burnaby Fencing Company
When it comes to fencing, QS Fencing is a Burnaby based, family run fencing company you can depend. For free estimates and professional advice about what kind of fencing is best for you, give us a call at 604-345-5145!