Learning the Benefits of Aluminum Fencing for Vancouver, BC
In March last year we published an article on "Creative Aluminum Fencing in Vancouver". In this past article, we mentioned the high creative potential of choosing aluminum fencing for your home in Surrey or Vancouver, BC. In this article, we will offer some key benefits that will help you decide is aluminum fencing is really for you! Here are some key benefits of aluminum fencing:
Cost
Aluminum fencing is a common option with many benefits. Although it is more expensive than the more popular and standard chain-link fence, aluminum fencing is still less costly than other fencing material options, such as iron. As such, aluminum fencing is a good medium point, especially for value for cost.
Low Maintenance
Aluminum fencing requires low maintenance because they are coated in heavy protective paint that will last several years without needing to be repainted. Aluminum fencing also isn't prone to rusting because its metal properties do not oxidize. You won't have to worry about that in your lifetime!
Security
Aluminum fencing is certainly less prone to be cut through than chain-link fencing.
Aesthetics
Let's face it: aluminum fencing looks much better than the popular and standard chain-link fencing.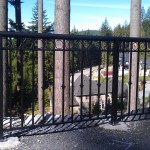 Chain-link fencing is great for its price point, but many will argue that its major drawback is its esthetic appeal. Aluminum fencing, on the other hand, offers a more solid and ubiquitous look that is also more likely to blend into the landscape while also match your house better.
There are many benefits of choosing aluminum fencing for your home in Vancouver, BC. Of course, you can always consult your local experts for a second opinion! QS Fencing Ltd. is located in Surrey, BC and can offer you great advice on the fencing option that works best for you.